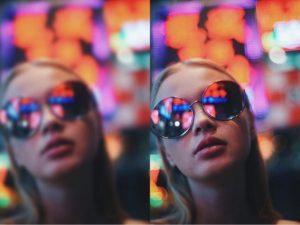 "Let's never come here again because it would never be as much fun". – Lost in Translation, 2003.
She looks out of the taxi window, neon lights blinding, foreign characters blurred against the inky blue-black Hong Kong skies. Immersed in faded fluorescent pink, red and peach and the city unravels before her eyes, the 70's fun and glamour still visible through the everyday grind, emblazoned across both the night sky and her own skin.
Sweet and exotic air, stars on the pavement, windows flung wide open, the glimpse of a temple with wind chime breeze through the leaves and branches shimmering with the heat haze.
Effortless and in control, but never blending in. Intoxicating and alluring, she writes her own story.
Dear Kowloon.