PERSONAL SHOPPER
Tortoise+Black are lucky enough to have the opportunity to showcase many amazing eyewear pieces, but the sheer quantity can leave your online shopping experience cluttered and laborious. Let us help you!
We have done all the hard work, all you need to do is read the four style personalities developed by our stylists and select which one you identify with most. When you are ready to browse our stunning edit of sunglasses or glasses you can filter your results by your style. Not everyone falls neatly into just one style so feel free to select more than one!
Need more help? No problem, you can speak to one of our style advisors. We find identifying your style personality is a great way to get the conversation started and they can make more tailored recommendations for you.
Suave+
Confident, charming & well dressed are just a few words that you can relate to if you identify with the Suave+ style. You like to keep it classic; tailored suits, smart shirts and ties are always prominent in a suave wardrobe. You prefer a darker palette to ensure that sophisticated look remains. Your clothes are always fitted and you always ensure that top button is done up! Your 'casual' wardrobe still always consists of a shirt teamed with dark slacks or jeans.
T+B Recommends…
Simple elegance is key. Look for understated black or tortoiseshell colour frames, in a classic angular frame shape, such as the wayfarer. Try out a round or panthos shape frame to update your look, but still keeping within your classic style. Brands to to look for are Giorgio Armani, Ray-Ban, Hugo Boss and Calvin Klein Collection.
Celebs:
George Clooney, Daniel Craig, Tom Hiddleston
SHOP FOR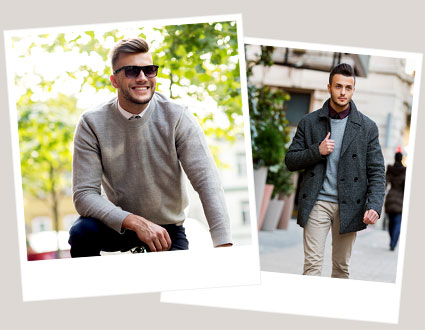 Indie+
As an Indie+ you are not afraid to stand out from the crowd. Your individual look reflects your independent spirit . You are first to dabble with the fresh new trends and are not afraid to show them off. Leather jackets, print shirts, ripped jeans and baggy t-shirts all occupy your wardrobe. You are never short of an accessory or two, you don't like to follow the rules.
T+B Recommends…
You don't need us to tell you what to look for because you have your own sense of style. Although, brands we think you might like are: Alexander Mcqueen, Marc Jacobs, Tom Ford and Ray-Ban. A new style coming through this season is the Browline frame shape. Check it out…
Celebs:
Harry Styles, Jonny Depp, Matt Healy, Russell Brand, Jayden Smith
SHOP FOR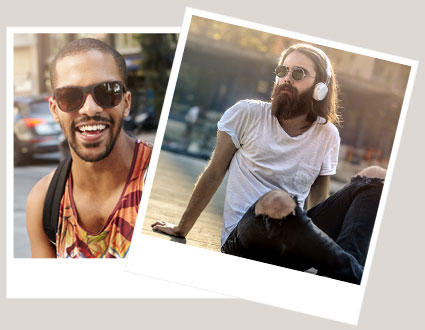 Traditional+
The Traditional+ style is a simple one but this certainly doesn't make it a stale and lifeless look! You like trends that last the distance, with quality materials and craftsmanship to match. You swear by neutral and toned down shades which complete the classic kind of look. You are likely to find smart shirts, dark jeans, a variety of knits and uncomplicated tees in your wardrobe. Your casual wardrobe is still kept smart, but has a more 'preppy' feel, with chinos being a staple.
T+B Recommends…
Keep your glasses simple with black and tortoiseshell. You understand the benefit of polarised lenses, and premium optics make a real difference to your choices? Brands to watch are Ray-Ban, Oakley, Giorgio Armani, Tom Ford and Persol.
Celebs:
Prince Harry, Eddie Redmayne, Zac Efron, Tom Cruise
SHOP FOR
Cultivated+
You have an eye for fashion and appreciate the latest trends, but you don't follow them religiously. Never a hair out of place, you are a martyr to the clean-cut polished look, straight lines and fitted clothing. Avant garde accessories are used to elevate your outfit; a bold watch or hand-crafted Italian shoes complete your image.
T+B Recommends…
View your sunglasses or glasses as a way or expressing your nod to the latest trends. Look for more cutting edge frame shapes such as panthos and round, whilst you can never go wrong with the trusty Wayfarer shape. Brands to watch are Tom Ford, Ray-Ban, Giorgio Armani and Persol.
Celebs:
Cristiano Ronaldo, Brad Pitt, Tom Hardy, Chris Hemsworth
SHOP FOR