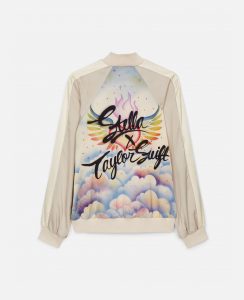 What a 24 hours it has been for the music sensation that is Taylor Swift. Hot off the back of the launch of her new album 'Lover' overnight she has now announced an exciting collaboration project with one of our favourite designers – Stella McCartney.
Taylor Swift and Stella McCartney first met at a Taylor Swift concert and hit it off, so much so that Taylor mentions Stella in one of her new album tracks.
"I couldn't believe that my name is in a Taylor Swift song," McCartney told British Vogue. "After Taylor played me the entire album it gave me such incredible inspiration for the collaboration and it really revolved around the music." She added, "What I love is how we really complement each other in what we generate creatively together."
The materials used within the collection are organic and recycled, which is in line with McCartney's aesthetic for all her pieces, including the bio-acetate used within her eyewear collection.
View this post on Instagram