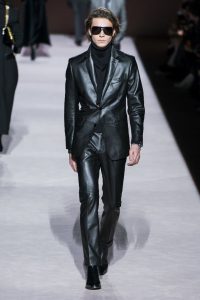 Tom Ford…defining luxury since 2005 from after many hugely successful years at fashion powerhouses Gucci and YSL. Now an award-winning super-brand, Tom Ford has unleashed beautifully crafted ready to wear clothing and accessories that have transported the fashion industry into a new era. Tom Ford eyewear showcases the best of sleek, understated design, with exquisite detailing with the subtle 'T' logo design on every pair.
This year's fashion show was full of nothing but exquisite designs, sleek outfits and more basic colourings. Opting for simplicity with this seasons collection Mr Ford himself said said it was a response to the culture of negativity in the world around us, especially in America itself.  Tom also said "I feel frustrated and agitated and exhausted. And I don't want to wear anything particularly challenging or anything particularly aggressive." This has showed in this seasons collection, while still having combined basic colours and styles which still defined perfection in everything that was showcased.  Ford is not just a designer and it would be an insult to say that's all he is. He is a master of the show, in giving people what they want. Last night's show was beautifully theatrical, yet also a retail safe haven. A deliverance of forties cinema styles, that mixed with elegant seventies disco in pieces while bringing them into the 21st century. The designer himself, who, following major success as a film director for A Single Man and Nocturnal Animals, could have also been showing a (very intentional) wearable and chic costume direction for an upcoming movie…who knows?!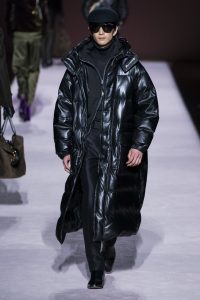 The eyewear for this Fall – Winter collection has kept a consistent look of square shapes, dark lenses and oversized looks. Ford steers away from his usual penchant for bolder prints and colours and opts for more simplicity in this collection, while still being able to produce something that stands out at the same time. As Mr Ford himself stated after the show itself "The true luxury of the garments and accessories is hidden in their construction". Seeing photos of these frames and garments will never be able to do them any justice whatsoever, the hand-crafted high-quality Acetate plastics that have been used for the eyewear are nothing but elegant and sleek while maintaining a constant and prestigious look at all times.
To Summarise, this year's Fall/Winter collection takes its inspiration from darker, basic colours, whilst still creating constant stand out pieces at all times. He hasn't gone tame or back to basics, per se, as much as he's reworking the sleek 60's, 70's and 90'S codes he famously established. This season was all about simplicity, it was a sumptuous, glamorous and a very 'Tom Ford take' on basics, featuring red velvet jackets, black leather jackets and dark Acetate frames. I mean I loved it!! His designs have carried through to the latest Tom Ford eyewear collection. View this seasons collection – Tortoise+Black!